Medical malpractice in foot and ankle surgery: Comparing podiatrists and orthopedic surgeons
Minimizing medical negligence risk is a key to patient safety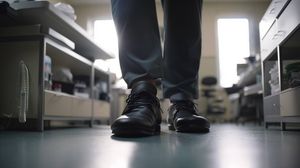 Medical studies have shown that up to one-third of the U.S. population suffers from foot or ankle pain.
Options for foot and ankle treatment
When seeking surgical care for foot and ankle issues, patients have two options.
Podiatrists are surgeons who specialize in surgery and medical care (non-surgical) for the ankle and foot. The practice of podiatrists overlaps with that of orthopedic surgeons who specialize in the same parts of body.
Both podiatrists and orthopedic surgeons provide elective (optional) procedures, the most common including bunionectomy (surgically repositioning toes back into the correct position) and correcting other foot deformities. These foot and ankle specialists also provide urgent surgeries that are considered essential to correct a problem.
Comparing medical malpractice claims
A study of medical malpractice claims involving foot and ankle surgery found that over 75% of claims involved podiatrists.
• Nearly all (over 94%) claims against podiatrists involved elective surgeries.
• The most common complaints in podiatric medical malpractice lawsuits include persistent problems with pain (over 41% of cases) and deformation injuries (over 27% of claims).
The same study found that around 15% of foot and ankle medical negligence claims that went to court involved orthopedic surgeons.
• The rate of claims against orthopedic surgeons was fairly equivalent between elective and urgent surgeries.
• For orthopedic surgeons, the most common patient complaints leading to a lawsuit include patient pain, surgical computation, and leg amputation.
When comparing the two specialties, podiatrists are more likely to be sued for the failure to treat the patient.
Orthopedic surgeons are more likely to be sued for performing an inappropriate surgical procedure.
Both types of foot and ankle surgical specialists are frequently sued for intraoperative errors, meaning mistakes that occur in the operating room.
Medical malpractice payouts
The study found a mean payment of $900,000+ for patients who sued podiatrists or orthopedic surgeons for foot and ankle medical malpractice.
This high jury awards for foot and ankle medical malpractice claims don't surprise me. Here at Painter Law Firm, we've handled numerous cases involving podiatrists, orthopedic surgeons, and patients with mobility issues in general. From this work, we've realized how important mobility is to jury members and to the public in general.
Interestingly, some focus groups research has suggested that becoming immobile is more terrifying to many people than other injuries that might be considered more severe.
Of course, anything that impacts normal foot and ankle function reduces mobility. Plus, when something goes wrong in those body parts, healing can often become more complicated because of the stress and weight that these important structures have to bear when we walk or even stand up.
If you've been seriously injured because of poor foot and ankle care from a podiatrist, orthopedic surgeon, or other provider in Texas, then contact a top-rated and rated, experienced Texas medical malpractice attorney for free strategy session about your potential case.
Robert Painter is an award-winning medical malpractice attorney at Painter Law Firm PLLC, in Houston, Texas. He is a former hospital administrator who represents patients and family members in medical negligence and wrongful death lawsuits all over Texas. Contact him by calling 281-580-8800 or emailing him right now.
//
Read full biography
//
Read more expertise by Robert Painter
Discover More