A Nightmare Unleashed: The Shocking Reality of Medical Identity Mix-ups
Unveiling the terrifying consequences of patient misidentification and what you can do about it.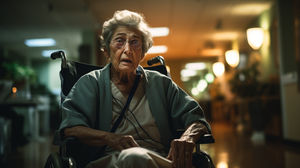 A few years ago, Painter Law Firm represented a woman in her 70s who lived in a Houston suburb. Let's refer to her as Sarah.
Sarah was a delightful lady with a grandmotherly smile that brightened everyone's day. Prior to hiring our firm, she underwent abdominal surgery and was scheduled for a short stay in a skilled nursing facility (SNF) to recover and regain strength before returning home. Despite some hearing difficulties, Sarah led an independent life and was generally healthy.
During her time at the nursing home, an unfamiliar doctor entered Sarah's room. We'll call him Dr. Blanco. Dr. Blanco spoke quickly, which made it hard for Sarah to understand him because of her poor hearing. She certainly didn't consent to an unnecessary procedure, though, but before she realized what was happening, nurses began wheeling her out of the room, down the hallway, and into an operating room. Unbeknownst to Sarah, Dr. Blanco intended to perform surgery on her.
None of the individuals in the operating room took the necessary steps to ensure they had the correct patient. Neither Dr. Blanco, the surgeon, nor the certified registered nurse anesthetist (CRNA) who provided anesthesia, nor the registered nurses verified Sarah's identity. These mixups can have deadly consequences. You can read more about it in an article I wrote recently: medication mix-up causes death of shoulder surgery patient,
What led to the sentinel-event medical error involving Sarah?
Our investigation swiftly identified what led to this sentinel-event medical error.
Dr. Blanco only came to the nursing home once or twice a week. The nursing home staff would notify him in advance of the patient names and what medical services or procedures they needed.
On this particular date, Dr. Blanco arrives at the nursing home and walked down the hallway when he saw Sarah's last name on her door. He figured that she was one of the patients on his list who had the same surname. Another patient in the nursing home shared Sarah's last name and required surgical debridement to address an infected area on her chest. Debridement is a painful procedure involving the removal of dead tissue.
Although Sarah had no issues with her skin or chest, Dr. Blanco and the operating room staff proceeded with the unnecessary debridement surgery. While it seems surprising that so many people missed the opportunity to get this situation right, that's often what we see in medical malpractice cases. When there are serious healthcare-related (iatrogenic) injuries, there tend to be multiple people involve who've made multiple mistakes.
This is a problem that keeps happening. I wrote in 2020, wrong site, wrong person surgeries among top serious 2020 medical errors, about how a hospital admitted to surgically removing the wrong man's prostate gland.
What are the consequences of undergoing an unnecessary surgery?
Of course, Sarah had physical pain, suffering, and physical disfigurement by going through a painful surgery that was completely unnecessary. But, it's important to realize that patient misidentification can have severe mental health or psychological consequences. Sarah experienced anxiety, trauma, and a loss of trust in the healthcare system. As a former hospital administrator and now a long-time medical malpractice attorney, I am aware that this type of mistake occurs more frequently than most people realize. Patient safety in America is in bad shape. A study found that medical malpractice is the third leading cause of death, accounting for some 250,000 avoidable deaths each year.
Therefore, it is not surprising that The Joint Commission has highlighted this issue as a National Patient Safety Goal for 2023. The Joint Commission, the nation's oldest healthcare accrediting agency, establishes standards to enhance patient safety in hospitals.
How does The Joint Commission address patient identification in hospitals?
When assessing a hospital's accreditation or re-accreditation, The Joint Commission evaluates whether the facility's leadership has implemented policies, procedures, and training to ensure accurate patient identification by doctors, nurses, and staff.
What are the requirements for accurate patient identification according to The Joint Commission?
While this may seem straightforward, it does not always occur. National Patient Safety Goal 01.01.01 mandates that hospitals use two identifiers, such as the patient's name, birthdate, or telephone number, to verify the correct patient. Thisaligns with the Universal Protocol, also known as the "surgical timeout," which has been in place for decades. The Universal Protocol requires the surgeon, anesthesiologist or provider, and other operating room personnel to pause and confirm the right patient, procedure, and site.
How can hospitals ensure accurate patient identification according to The Joint Commission?
Hospitals are busy places, and when surgeons, doctors, and other healthcare workers are rushed, they tend to make mistakes. That's why The Joint Commission standards are so important. Had Dr. Blanco and the operating room staff adhered to these essential patient safety rules, Sarah would not have gone through an unnecessary surgery.
What additional measures should be taken to ensure correct patient identification for specific patient groups?
Certain patient groups, such as newborns, the elderly, and those from different cultural backgrounds may require additional measures to ensure correct patient identification, and to make sure they get the correct medical or surgical treatment.
What are the risks and challenges of patient identification for specific patient groups?
Elderly patients like Sarah might have hearing impairments. It's important for doctors and nurses to verify that a patient actually comprehends what's attempting to be communicated.

On the other end of the age spectrum, newborns face a higher risk of misidentification because they can't communicate and the overall similar appearance of many babies in the newborn nursery.

Cultural considerations should also be taken into account, particularly in diverse environments like Texas. Varying naming conventions across different cultures can differ from identification cards or medical records, necessitating the development of protocols that accommodate these variations and guarantee accurate patient identification regardless of cultural background. In some Hispanic cultures, for example, individuals may use what appears to be a middle name as a last name.
How can healthcare professionals enhance patient safety in the identification process?
Healthcare professionals should exercise caution and avoid rushing through the patient verification process. In some cases, involving family members may be necessary to ensure accuracy.
What are the implications of medication errors related to patient misidentification?
The Joint Commission has also emphasized the issue of medication errors in the 2023 National Patient Safety Goals. Mistakes can occur at various stages, including prescription, pharmacy processing and filling, and preparation for delivery to the patient.
How can patient engagement improve the patient identification process?
One way to enhance patient safety is for healthcare professionals to approach patient identification as a collaborative process with patients and their family members, rather than a mere checklist item. Engaging patients and their families in the identification process can serve as an additional safety measure.
In Texas, when a surgeon, physician, or nurse provides unnecessary treatment to the wrong patient, there may be legal implications.
What should someone do if they have suffered serious injuries in Texas due to patient misidentification?
If you have suffered serious injuries in Texas due to patient misidentification, we encourage you to contact a top-rated and experienced Texas medical malpractice attorney for a free strategy session to discuss your potential claim.
Robert Painter is an award-winning medical malpractice attorney at Painter Law Firm PLLC, in Houston, Texas. He is a former hospital administrator who represents patients and family members in medical negligence and wrongful death lawsuits all over Texas. Contact him by calling 281-580-8800 or emailing him right now.
//
Read full biography
//
Read more expertise by Robert Painter
Discover More